Flamingo Amazing Holiday: From just VND 950.000/guest to discover the fairy green land
Flamingo Amazing Holiday: From just VND 950.000/guest to discover the fairy green land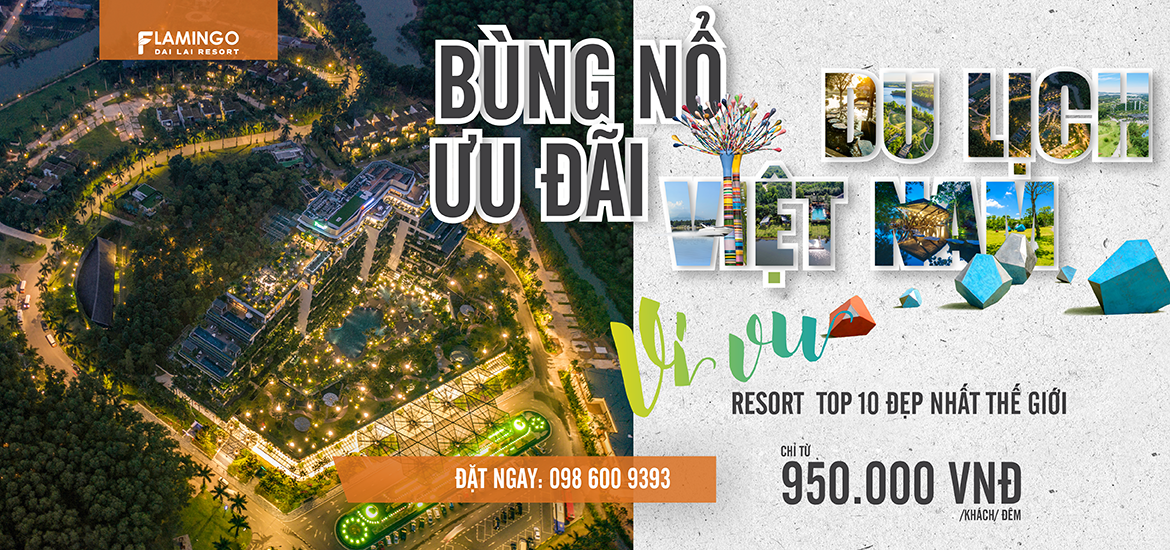 In response to the program "Vietnamese people traveling Vietnam" launched by the Ministry of Culture, Sports and Tourism, with the desire to spread the love of Vietnamese people with the beauty of their homeland, Flamingo Dai Lai Resort is honored. Grateful for the super preferential program Flamingo Amazing Holiday which takes place from August 1st to December 31st, 2020 containing 3 packages of products: Amazing Value; Amazing Leisure & Amazing All Day Spa with hundreds of exclusive offers only at Flamingo Dai Lai Resort.
Accordingly, in the Amazing Value standard resort package, only from VND 950,000 / person / night, visitors will receive a luxury vacation at the top 10 most beautiful Resort on the planet with many 5-star standard facilities.
Amazing Value - Only from 950,000 VND / person / night
• Accommodations at a 5-star villa
• 1 standard breakfast
• Using the resort's swimming pool system
• Tram service 24/7           
• Water sport
• Free Wonder Park, Kid Club, Gym services
• Free venue for outdoor parties
• Visiting 25 unique check-in places at the resort
Especially, with the Amazing Leisure package, comes with the 5-star villa resort benefits, visitors will be offered additional unique high-end services only at Flamingo Dai Lai Resort, from food, entertainment to spa and beauty services.
Amazing Leisure - From VND 1,300,000 / person / night:
• 5-star accommodations (including all Amazing Value packages)
• Presenting hundreds of premium services at entertainment and recreation complexes, exclusively at Flamingo Dai Lai Resort
- The biggest Resort complex in Northern Vietnam: 4-season swimming pool, gym
- The largest Korean Jjimjilbang complex in Vietnam
- The largest indoor entertainment complex in Northern Vietnam: Flamingo Virtual Reality Center - VR Games Park, Flamingo Cinema
- The largest outdoor sports and entertainment complex in Northern Vietnam: Sports Club, Tennis
- Water Entertainment complex: Beach Club, Cano visiting Dai Lai lake, Fishing Club
- Free Lunch Set Menu
- Experience Flamingo Smart Office
- Free tour to Flamingo Art in the Forest: Asia's leading nature art museum
Discount 10% of culinary services at the system of 11 luxury restaurants - bars with many prestigious awards of architecture

Up to 20% discount on therapeutic services at the largest health and beauty spa complex in Vietnam - SEVA Spa & Beauty Destination
In addition, from only VND 1,500,000/person, visitors will experience the Amazing All Day Spa Combo package (up to 80% savings), with the privilege to experience all the health and beauty services at SEVA Spa & Beauty Destination - The largest health and beauty spa complex in Vietnam):
Amazing All Day Spa - From VND 1,500,000 / person / night:
5-star resort (including all Amazing Value packages)

The privilege to experience the largest health and beauty spa complex in Vietnam
 - The largest Korean Jjimjilbang complex in Vietnam (including 08 steam rooms)
- Massage service with 07 body care massages
- Facial care / skin detox service
- 01 detox drink + nutritious soup
- 5-15% discount on intensive therapy packages
Together with classy services and amenities plus room

 
- The largest water entertainment complex in the North of Vietnam
- 10% discount at the most award winning restaurant chain in Vietnam
- Flamingo Contemporary Art Museum - Vietnam's largest lakeside art space
Terms and conditions:
From August 1st, 2020 - December 31st, 2020

Do not apply to holidays

Applicable to other terms and conditions of the resort
Contact for reservation
Hotline: 098 600 9393
Email: sales@flamingogroup.vn
Website: flamingoresorts.vn